In the present business world, all companies struggle to keep up with an ever-growing level of competition between old and new actors that actually compete for a limited number of customers.
At the same time, as more and more companies focus on the online space - including retail and other e-commerce enterprises - the need for reliable data increases daily as the content truly becomes king, not only for those producing it but for businesses that want to create better products and services.
So, are all companies ready to invest time and money to find the content they require? Are they prepared to train a good number of people to go out there and find out what it takes to turn an average business into a really profitable one?
As we can already imagine, the manual search for valuable data takes some good resources from a company that is strongly focused on the online environment. And when those resources are not so easily available - as in the case of an emerging startup - another valid alternative to acquiring business-related data must be found.
For all these reasons, proxy server solutions appeared to save the day for companies that need valuable information as they are considered a cheap, fast, and reliable method to obtain the necessary content.
And when we put proxies and web-based businesses side by side, we are obviously getting to web scraping activities that aim to deliver the required data in time.
Though it is true that web scraping jobs are not so easy to be undertaken these days as the online security mechanisms have become stronger and stronger in an attempt to keep unwanted visitors away from accessing sensitive information, proxy server solutions managed to keep up with the latest challenges in the market and found new means to continue helping users access the required content.
Let's discover the major web scraping cases for companies that want to reach their business goals.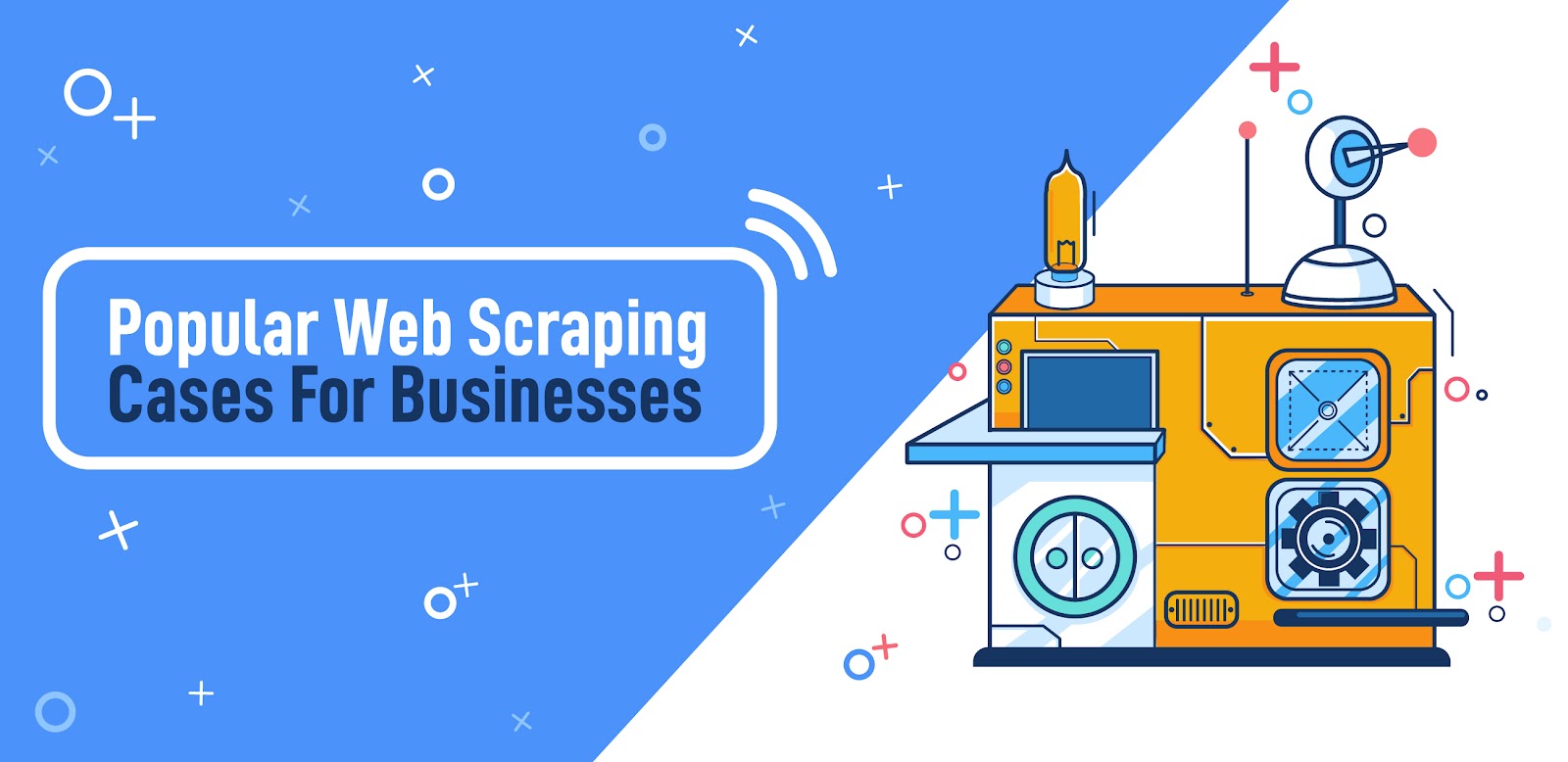 Popular web scraping cases for businesses
Valuable data for business and product development
How do you make the important data-based decisions that push your business forward unless you have affordable access to valuable information?
This is one of the main questions all business ventures raise when building a product, especially a software solution, and are interested in attracting new customers and increasing sales.
To support the business development, while saving time and resources, many companies understood that proxy server solutions are the right tools that can assist them in acquiring quality content.
This information can then be used for a variety of business purposes, from marketing campaigns and sales intelligence to planning the entire SEO-based content strategy and designing the brand voice for the targeted audience.
At the same time, the data can be employed to further develop and enhance a company's line of products. How are you going to launch a new solution into the market unless you know what products are already available and what particular needs they serve?
For instance, you may want to develop a software product that can offer customers a feature that is not yet available in the industry, though similar solutions may be present.
But how are you going to find out what features are incorporated in your competitors' products unless you test them one by one and check the online documentation?
If manual testing is difficult to be replaced with an automated tool, checking your competitors' websites - where you can find the product description and the online documentation - should be an easier step to take, especially when using proxies in web scraping jobs.
At the end of the day, with all the data taken into account, your team should have a better idea of the final solution that can be built to attract new customers.
As for the necessity of engaging in web scraping jobs to extract content for marketing purposes, this is already a very popular use case for proxies since many companies already adopted this practice in multiple areas, from content creation and SEO to email marketing and social media.
Best prices for higher revenues
Your products are ready to enter the market, you know your target audience and your marketing strategy is in place. What about your pricing structure? How much will you charge for your solutions or services? Should you charge more or less?
All these questions are naturally merging into any sales manager's head as the company is trying to establish a competitive pricing plan that takes into account the natural laws of supply and demand while keeping an open eye on the competitors' own prices.
Should you set similar prices as the competition? Did they all set the same prices and if not, why not?
Before deciding on the right prices, it's important to have an overview of the entire market landscape and check the pricing plan of all competitors. After that, you need to understand why most companies keep different prices for similar products.
If we are talking about a major company that is already popular in the market, we might find higher prices than the ones set by a startup that is looking to attract and keep a growing number of customers.
How you position yourself in the market and the way you promote your products and brand is directly connected (or should be) to the prices you practice.
Normally, a company that just starts 'walking' will try to come up with a competitive pricing plan and strategy to attract customers.
At the same time, your company needs to remain as flexible as possible and take advantage of the major commercial opportunities that take place every year, especially at the end of the year. Are you ready for Christmas?
Now, let's get back to proxies and their web scraping power to see how these amazing tools can help any company.
First of all, it is quite obvious that proxies are the answer for all companies, large or small, that want to extract prices from the competition in order to improve their own pricing strategies.
Do you have the time and resources to run this operation on a manual basis or should you use specialized tools and high-quality IPs in order to obtain the right performance?
If you already decided that proxies are the correct answer, then you can start contemplating the best proxies to use for data extraction jobs. We are obviously talking about residential proxy server solutions.
Keep your clients close and your competitors even closer
Do you know your customers? Where do you find them and how do you bring them closer to your business?
These questions are only natural for any company, no matter how long it's been in the market. As the customer profile keeps changing and technology delivers new products and services, users' choices adapt to the latest novelties.
Are you ready to welcome a new set of customers or are you satisfied with your existing database? To keep your clients close to your business, a constant stream of communication must be maintained via marketing & sales campaigns, social media dialogue, and even email.
What about proxies? Can we use proxies to find out more about our customers?
Proxies can be indeed used to find out more about customers as we engage in web scraping activities on numerous social media platforms, forums, and blogs from the industry where we know there is a great probability that some of our customers might try to present their views.
At the same time, we have to remember that many software products are actually tested and analyzed on various websites, so it's worth checking those online sources too.
As for keeping our competitors even closer, things are somehow easier as the rival companies are always trying (as much as we do) to go out there and promote products and services to a great number of people.
In this case, once again, proxy server solutions employing residential IP addresses become essential as they can be easily used to hide our real IPs while scraping our competitors' websites for valuable information.
Maybe you want to have an idea of your competitors' marketing strategies or content plans, or maybe you are not sure about the prices you should set for your products.
Proxies are ready to assist any company as they've become important tools in the online space helping any business access data fast from geo-restricted locations.
Without proxies, we would have to engage in a manual checking process on our competitors' websites and blogs to discover what keywords they focus on, what topics they approach in their articles, and how exactly they understand to promote their products.
For all these reasons, proxies can be easily used by new and established companies.
Though it is true that startups enjoy a greater number of benefits as they are at the beginning of the road and require valuable data to build the right products, attract customers and increase sales from zero, major brands are equally interested to remain connected to the latest developments in the market and preserve an open dialogue with potential leads.
What proxies are recommended for an effective web scraping job?
From a general perspective, we have to say that the most popular proxy server solutions which are generally used in web scraping jobs are rotating and static residential proxies.
Now, we also have to emphasize that the difficulty of the scraping job is directly connected to the proxy of choice.
If static residential proxies are preferred for easier scraping jobs where the value of the obtained content is 'less vital' for the development of a business, there are other companies that actually need online data to further develop their products, services, and even their marketing strategies, and these type of companies prefer the reliability of rotating residential proxies.
Most of the time, companies that are familiar with proxies and use them to obtain online data know when they should use static proxies and when the rotating ones should be put to the test.
We have to emphasize once again that static residential proxies are the first choice for most companies as they are easy and cheap to be acquired, and they are fast making them ideal for most web scraping applications.
As for rotating residential proxies, these tools are employed by users who want to extract data under the guise of residential IP addresses for the best chances of success.
Since residential IPs come from local home networks in various countries, the user manages to extract the required information while preserving a high level of security and privacy as the genuine IP address is kept hidden.